About Conrad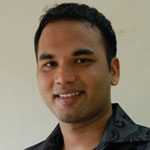 Conrad Coelho is a noted exponent of Latin and Ballroom dancing in India.
In 2009, Conrad passed the ISTD Student Teacher Examination in Modern Ballroom and Latin American Dancing in England. In 2010, he passed the ISTD Latin American Associate Examination securing the "Highly Commended" grade – the highest grade a Ballroom Dance Teacher could possibly achieve.
Conrad also secured the "Highly Commended" Grade in the Professional Dancing Diploma Examination in England in May 2015 and gained the ISTD LA Salsa Associate qualification in 2017 with a "Highly Commended" Grade. Conrad is the first and currently the only Indian to gain the newly introduced Salsa qualification.  
Conrad is a passionate promoter of Salsa Dancing and has the distinction of teaching various lesser known dances such as Bachata, Merengue, Rhythm Dancing, Paso Doble, etc in Mumbai. He's trained under various international trainers; incorporating several different dance styles. He is recognized for his amazing lead, unlimited database of moves/combinations and respected for teaching many people how to feel confident and express themselves on the dance floor. His workshops in colleges and corporate offices have always been extremely popular. He is also a seasoned performer and choreographer. Creativity and expression through movement and music has always been a focal point of his life.
Affiliations
Imperial Society of Teachers of Dancing, London- An Institute by Dance Teachers for Dance Teachers established in 1904. ISTD is the world's Governing body for International Style Latin American and Ballroom Dancing.
All India Dance Sport Federation (AIDSF) the only recognized National Sport Federal in India. AIDSF represents the International Dance Sport Federation IDSF in India
An Instrumentation Engineer by Qualification, he has also completed his MBA from Mumbai University and is currently pursuing academic research in Operations Management. Conrad Coelho has also recently co-authored a reference book on "Production and Total Quality Management" (ISBN: 979-93-5202-092-8) for Mumbai University students!

Achievements and Honors
Attended Training Program for Judging DanceSport Competition by International Adjudicator in 2013.
Conrad attended the International DanceSport Teachers Congress at West Sussex, England in July 2010
Won the Silver medal at the Pune International Dance Congress, March 2010
Participated in the Asia Pacific Latin Championship 2009 held at Singapore
Won the Gold and Silver medals, in different categories, at the Maharashtra DanceSport Competition 2009 held in Mumbai
Won the Silver Medal at the All India Dance Sport Competition 2008 held in Orissa